Biography

---
It all began when Jack Benny and his wife, Mary, took me under their wing and launched my professional film acting career at UNIVERSAL STUDIOS in Hollywood as the teenage son of MA AND PA KETTLE.
I spent two years in the UNIVERSAL STUDIOS new talent program, where in addition to a regular study program, I played supporting roles in thirteen films, including, TO HELL AND BACK, ALL I DESIRE and THE REVENGE OF THE CREATURE. Later I graduated into becoming one of Hollywood's "Teenage Rebels", starring in such films as, HIGHSCHOOL HELLCATS, HOTROD RUMBLE, CRYBABY KILLER, SPEED CRAZY etc.

GUNSMOKE
At about this time, I got my first taste of acting in "live" television, appearing in more serious roles in PLAYHOUSE 90, STUDIO ONE, WESTINGHOUSE THEATER and MATINEE THEATER. I also began working in many "filmed" TV shows such as: LIFE OF RILEY, SEAHUNT, BAT MASTERSON, HIGHWAY PATROL, GUNSMOKE, along with continuing roles in MCKENZIE'S RAIDERS, BRAVE EAGLE, and THE BENGAL LANCERS.

As my movie career progressed, my range of roles widened to include, westerns, FOUR FAST GUNS - war films, SUBMARINE SEAHAWK - adventure, THE SMOKE JUMPERS - sci/if, THE ATOMIC SUBMARINE - and social dramas such as I WANT TO LIVE.

---
Then, I was called to 20th Century Fox where I made a major career break-through with the title role in THE RETURN OF THE FLY. In my three years at Fox, I starred in BLOOD AND STEEL, DESIRE IN THE DUST, THE BEST OF EVERYTHING, RETURN TO PEYTON PLACE, and in the ABC-TV series, FOLLOW THE SUN.

As fate would have it, the series ended on the same day as an offer came from Italy to star in SEVEN SWORDS FOR THE KING.

(1966) Nominated for Best Actor at the Buenos Aires Film Festival for L'heure de la Vérité (1965) (aka "The Hour of Truth").


KIDNAPPING
My European career began with a series of swashbuckling films, THE MAGNIFICENT ADVENTURER, THE AVENGER OF VENICE, THE BRIDGE OF SIGHS etc. I put away my sword and picked up a six-gun to have a long run with the "Spaghetti Western" craze: TODAY WE KILL TOMORROW WE DIE, KILL JOHNNY RINGO, ROY COLT AND WINCHESTER, KIDNAPPING etc.

---
The success of James Bond inspired a series of adventure films which kept me busy for another couple of years, SPY IN YOUR EYE, INTRIGUE IN LISBON, WEB OF VIOLENCE, TRUMPETS OF THE APOCALYPSE, and BANG BANG. Some other notable international films were: THE HOUR OF TRUTH in France (for which I received a best actor nomination), A DAY AFTER AUGUST, in Spain, LADIES LADIES, and THE MAGNIFICENT CUCKOLD in Italy. LOVERS AND KINGS and JACK AND JENNY, in Germany.

Returning to Hollywood after ten years working abroad was not as happy an occasion as I had hoped. I started by accepting a role in the CBS daytime series, LOVE IS A MANY SPLENDORED THING. Later, I worked in the nighttime shows: COLUMBO, CHARLIE'S ANGELS, ALIAS SMITH AND JONES, BIONIC WOMAN, BUCK ROGERS, LOVE BOAT, FANTASY ISLAND, FALL GUY, MATT HOUSTON, DUKES OF HAZZARD, MIKE HAMMER and many others. I returned to daytime TV and spent a year in CBS's, SEARCH FOR TOMORROW.


THE DEVIL'S HONEY
My only movie during this time was, WHERE DOES IT HURT, and since movies have been my preferred medium, I went back to Europe. This time I didn't make the mistake of abandoning Hollywood completely. I returned for a year in ABC's, GENERAL HOSPITAL, and later for another year with CBS's, THE YOUNG AND THE RESTLESS. I had some other activities during this time, which I will add to the end of this "short bio".
I continued my European career with more adventure films: THE COMMANDER, THE COP GAME, BET THE RED, and ESMERALDA BAY - Some romantic films: THREE VERSIONS OF LOVE, THE WOMAN WHO LOVED TOO MUCH, THE DEVIL'S HONEY - And the Italian TV films: ROSE, and MYSTERY.

---
(1988) Nominated for Best Actor, Festival de Cinema de la Costa Brava, for Il miele del diavolo (1986) (aka "The Devil's Honey").

I later returned to Italy to star in a series of "Spaghetti Horror Films": WHEN ALICE BROKE THE LOOKING GLASS, DEMONIA, THE BLACK CAT, LEVANA, MESSAGE FROM DEATH. I remained in Italy to play opposite Diane Keaton in Francis Ford Coppola's, GODFATHER III. Then, shortly after Godfather, I went to Morocco to costar with Rutger Hauer, Omar Sheriff, Elliot Gould and Carol Alt in the major Italo/American, three-part mini-series, THE PRINCE OF THE DESERT.
I have also had some successful years in Canada, I starred in CLUB UTOPIA, RISK FACTOR and THE SEARCH FOR DIANA, and played in the TV films, BACKSTAB, TO CATCH A KILLER, GREGORY K, GOLDEN GIRL and KISSINGER - I had a recurring role in the TV series: Kung Fu, and appeared in the TV productions: E.N.G. (2), TOP COPS (3), STREET LEGAL (2), SWEATING BULLETS, COUNTERSTRIKE, DOG HOUSE, FOREVER KNIGHT, SECRET SERVICE, MATRIX, THE ASSOCIATES, X-MEN (5), TEKWAR, and FREEFALL.

In Costa Rica, I appeared in the TV series: MOGLI, THE NEW JUNGLE BOOK, EL BARRIO, LA PENSION, and the feature films: ASESINATO EN EL MENEO and MUJERES APASIONATAS.

Most recently, here in the U.S., I have appeared in the films, THE SCARLET WORM and HIERARCHY, and in the TV series, COLDCASE.

Nominated for Best Supporting Actor, Hoboken Film Festival, 2013, for 'Club Utopia'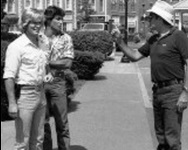 THE DUKES OF HAZARD
Apart from acting, I have been busy in other aspects of the entertainment business.
I spent two years at Warner Bros. TV, writing, developing future projects and working in association with the production staff of THE DUKES OF HAZZARD. It was during this time that I also began teaching at Warner Bros., and at my own actor's workshop at the Chamber Theater in Studio City.
I spent another year at Paramount Pictures as Vice President of Development, for the Jay Bernstein Company.
I spent a few months in London writing and preparing the motion picture, SILVERWORLD for the Sun Entertainment Group.

I wrote and directed the documentary TV series, A COUNTRY ON THE MARCH, filmed in Costa Rica for Classic Films Int.

---

My bestselling novel, THE MAGNIFICENT STRANGERS, received the West Coast Review of Books, 1979 Silver Medal Award for "Best contemporary novel of the year." It is currently in development to be produced as a major international TV mini-series. My TV Sit/Coms, WAR AND PIZZA and THE SILVER FOXES are also in development.

My next novel, YESTERDAY'S CHILDREN, was published by Knightsbridge Publishing Co., and is currently available on Amazon.com., Barnes and Noble.com and BookLocker.com – as are my books MY SOUL TO KEEP and A GRAVE MISUNDERSTANDING, published in 2014. (See Book Page)

My motion picture screenplay, SAFARI, for P.I.T. and R.A.I./Italia was directed by Roger Vadim, and was released in Europe in the Summer of 1990. From 1996 until 2004, I served as a professor of Film Studies at the University of Costa Rica's, School of Dramatic Arts. I have also taught at the International School of Film & Television, in Cuba.

---
I am an active member of The Academy of Motion Picture Arts and Sciences, The Academy of Canadian Cinema and Television, The Authors Guild, The Authors League of America, ACTRA, The Screen Actors Guild, AFTRA, and Actors Equity.

That's about it up until now. More will be added as it happens...


---

Listen to an interview with Brett, from August 3rd 2014, at http://www.OnScreenAndBeyond.com

---