Chris Tracy turned away from a situation he couldn't face and became a bounty hunter – a profession where when all else failed, he could count on his fast gun.
When an old friend convinces him to strike out in search of a lost fortune in gold, their trek across a barren desert leads them into challenges far greater than the devastating sun, hostile Indians, or the unknown riders who are dogging their trail.
It becomes a trail into to a situation far more dangerous and perplexing than anything he has ever encountered. A situation that threatens death and destruction to all around him.
-See Sales page for a personally autographed copy of 'West of Hell'.

Also available at Amazon.com and Barnes and Noble.com


This new, paperback, edition of MY SOUL TO KEEP is a sweeping saga of passionate women and their men at odds with the tragedy of their changing times. Their story, set in 19th Century California, follows one family's fight to survive forbidden love – ugly prejudice - the decline of Mexico's power – bitter war - the destruction of Indian tribal society – and the ever-increasing swarm of white Americans, coming to settle their newly formed State.

See sales page.


Read an excerpt here http://booklocker.com/books/5654.html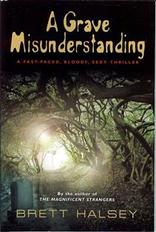 A GRAVE MISUNDERSTANDING
is a dark, fast-paced thriller that takes place in and around a second-rate tourist chalet, high in a secluded mountain valley. Ana is pregnant when she accidentally kills her drunken husband. She and her boyfriend Dick hide the husband's body in the grave of his first wife.
Dick and Ana's life goes on without any major problems, until seven years later their fool-proof scheme is almost unearthed when the county decides to relocate the graveyard in order to build a new highway.
This development turns their world upside down, and sets in motion a mess of unintended bloody murders, treachery, madness, and illicit sexual encounters.
Read an excerpt here…
http://booklocker.com/books/7489.html
..."A Grave Misunderstanding," reveals the evolution of a pro—the humor, the timing, the attention to detail. By now Mr. Halsey can flat out write. Along with crime, suspense, and gripping characters, I found "A Grave Misunderstanding" to be possibly his best work ever. It's one of those thrillers you just don't seem to be able to put down. I couldn't recommend "A Grave Misunderstanding" more highly.
A Gripping Chiller With Humor
Reviewed
by
- Rick Lenz, author of "North of Hollywood"
on
Amazon.com
---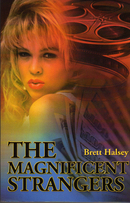 In 1960's Rome, sex, greed, money and power are all in a day's work for the American exiles, in the film community known as
THE MAGNIFICENT STRANGERS.
Unknowns become stars overnight, wealthy men lose fortunes, and sexual prowess is always a way to get ahead. Caught up in the explosive world of fame, glamour, money, drugs and orgies are wealthy businessmen, playboys, social climbers, gold-diggers, actors and actresses, movie moguls, agents, and more.
See Sales page.
"The Magnificent Strangers" won the "Porgie Award" for Best Contemporary Novel of the Year by the West Coast Review of Books.

---
---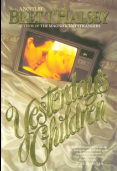 Adultery, abortion, incest - that is what's happening on your TV screen. But behind the cameras is where you will find the real action, in YESTERDAY'S CHILDREN, a story set in the world of 1970's day-time soap operas.
On the set and in the control room. From the production offices to the Network executive suites. And in their not-so-private bedrooms, the characters of YESTERDAY'S CHILDREN live out a drama packed with love, intrigue, disappointment, sex, drugs and murder.
See Sales page.

---
---
"Brett Halsey on Screen"
a pictorial celebration about Brett's long and distinguished career, is available in paperback on the
Sales/Contact
page. This book is a beautiful photographic companion piece to Brett's biography.
Read this great review for it:
"A Superb Testamant to a Working Actor's Achievements on Screen"
By
Tony Williams
on 9 Aug. 2015
On initial inspection, I was first skeptical about the nature of this book since it is mostly comprised of film stills and posters. However, after reading the author's introduction and forward by Halsey himself I began looking at the main text and then understanding its nature. Murray decided to collect a diverse amount of visual material from the sixty or so years the actor has worked to illustrate his firm technique of screen acting … his various appearances with actors such as young Jack Nicholson, Ursula Andress, Mary Astor, Ray Milland, Dana Andrews, and Broderick Crawford - to name but a few. It is often sadly the case that good work is overlooked for those not often in the spotlight and Murray's book rectifies the omission.